Let's use an example to explain this system. I will use a Donut that I will call Hank. Hank the Donut. If we render Hank with just a base AA, every pixel of Hank will be resampled the amount of times we set the base-AA. However, when we take a closer look at Hank, we might realise that it's unneccesary to sample most of the pixels of him, because they're smooth and happy the way they are, un AA'd. Only the edges of Hank need to be AA'd. So, this is where AS comes in. You can set the base AA really low, and the AS system will detect the pixels that have high contrast with their neighbours (according to the threshold setting in the AA panel), which means that they will likely need more AA. It then resamples only these pixels again, at a higher AA number. It then does this process again with even more AA samples until the maximum number of samples is reached (as stated in the chart below), or until all samples are within the threshold. See the examples on the right, where a difference in the tolerance number is indicated by white, which are the areas of the image that will be resampled.
The amount of AS passes and the maximum number of samples are governed by the following charts:
AA Level

Max AS Passes

Max Samples

1

7 Passes

128

2

256
3
384
4
6 Passes
256
5
320
6
384
7
448
8
5 Passes
256
9
288
10
320
11
352
12
384
13
416
14
448
15
480
16
4 Passes
256
17
272
18
288
19
304
20
320
21
336
22
352
23
368
24
384
25
400
26
416
27
432
28
448
29
464
30
480
31
496
32
3 Passes
256
33
264
34
272
35
280
36
288
37
296
38
304
39
312
40
320
...
64-127
2 Passes
128 & Up
1 Pass
(I used Dave Jerrard's great Charts to compile this one )

As you can see, with each lesser pass, the maximum amount of samples drops down again to 256. This means that it's perfectly possible, and quite likely, that an AA of 8 combined with the AS system is actually faster than an AA of 7.
The AS system, however, is not perfect, as by very nature it cannot resample that which it cannot see from its primary data. It's therefore very important, and this is highly scene and purpose dependent, to give some thought to what your base-AA will be. In most cases, a base AA of 1 will not be sufficient. Small details and fine lines will not be picked up, and subsequently not be anti-aliased (see Hank with fine lines below). For animations this can give very bad results, flickering in and out of detials, banding, or 'walking' lines. Some experimentation per scene is required, but if in doubt, choose the higher AA. It is for instance smarter to use a base-AA of 4 than a base AA of 3, as it gives you an AS-jump, reducing the maximum number of samples, which can lead to shorter render times, and also reduces the chance of the AS system 'missing out'. This is all really scene dependent, and making generalisations is dangerous, but using this chart to your advantage might well save you those precious few hours of render time.


As you can see in the image above, when we give Hank some really fine lines on his gorgeously curvaceous body, the AS system misses them if the base-AA is set too low. In this case, a base-AA of 4 is even too low to catch all of the lines. It's better to go to 5 or higher if this is reall important. However, we can also increase the oversampling. This will spread the sampling pattern and cause the lines to be detected with a lower base-AA, at the price of some softness (see image below). But you might actually like that.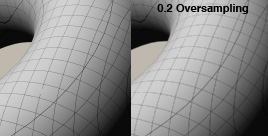 When do I use Adaptive Sampling, and when do I not?
Adaptive sampling is a great method to have consistent output quality while scene content changes, that focuses on important areas and not on others. That said, there are cases where you do not want to use it. First, since there is no 'max samples' setting, on scenes that have many sample areas, or contrasty surfaces that are expensive in calculation time, you want to watch out as your render time may become very high unnecessarily. Usually it helps to reduce the AS setting while increasing the base AA in such circumstances.
You do not want to use AS if you are re-exposing your image a lot after rendering. The AS system works on the gamma that LW renders in, so after re-exposing things may become aliased again. For linear workflow and similar techniques it's therefore recommended to turn AS off alltogether.