Except Integrated sustainability
We realize change that matters, and change that lasts. We tackle sustainability challenges with our partners to make a lasting impact for people, our environment, and investment.
We work with  companies, governments, and communities, guiding them every step of the way. We supply revealing analysis, game-changing strategies, innovative designs, and efficient project management. With lasting, tangible, and inspiring results.
We support  our partners with experience of over 500 sustainability projects worldwide. We love turning complex challenges into new opportunities. We use systems analysis and co-creation methods, including the circular economy and natural capital, and from sustainable urban designs to resilience training.
Curious about what we can do for you?  View our services, read more about us, or  talk to us,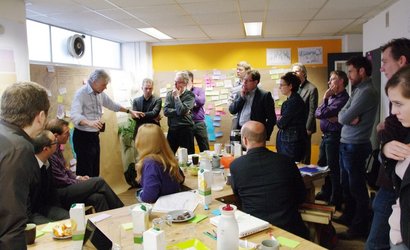 Who we are
Except Integrated Sustainability delivers concepts and strategies for resilient, just, and inspiring cities, companies, and governance. Since 1999 we bring together private and public partners and guide them towards systemic and fundamental improvement, where all stakeholders benefit. We apply innovative systemic analysis, develop road maps towards resilience, and execute solutions with inspiring design. Together we bridge gaps between sectors to accelerate the frontier of sustainability, and create concepts that are realistic and feasible.
We're a passionate, practical, and dynamic team, known for our interdisciplinary and innovative approach. Our team consists of 30 sustainability strategists, researchers, and designers that works around the world, with our base in Utrecht, the Netherlands, in our own energy neutral and toxin-free renovated monument.
Contact Information
Contact Hours
Monday-Thursday: 10:00 – 18:00
Friday: Time for reflection
phone: +31 10 737 0215
Offices
Except Netherlands
Stadhuisplein 15
3012 AR Rotterdam
the Netherlands

Except USA
The Bourse
839 Chapel Street
New Haven, CT 06511
USA