Except Integrated sustainability
At Except Integrated Sustainability we provide elegant solutions that make businesses, industrial processes, urban environments and daily life more sustainable.
We innovate to resolve challenges of sustainability for visionary clients on four continents, for over a decade. With over a dozen specializations at our disposal, we love creating synergies between science, design, nature and systems thinking.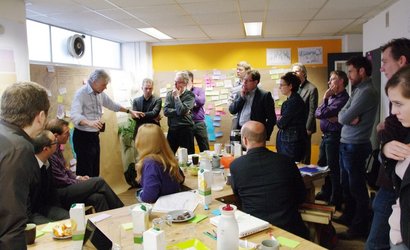 Who we are
Except Integrated Sustainability delivers concepts and strategies for resilient, just, and inspiring cities, companies, and governance. Since 1999 we bring together private and public partners and guide them towards systemic and fundamental improvement, where all stakeholders benefit. We apply innovative systemic analysis, develop road maps towards resilience, and execute solutions with inspiring design. Together we bridge gaps between sectors to accelerate the frontier of sustainability, and create concepts that are realistic and feasible.
We're a passionate, practical, and dynamic team, known for our interdisciplinary and innovative approach. Our team consists of 30 sustainability strategists, researchers, and designers that works around the world, with our base in Rotterdam, the Netherlands.
It's easier to run through a dark space when someone turns on the light. Our SiD systems-thinking framework sheds this light on complex challenges, speeding up strategic decisionmaking using dynamic analysis and visualization tools. SiD incorporates areas such as the circular and bio-based economy, social justice, and crowd-based development. We then guide these strategies towards realization with our partners, combining science, creativity, and social entrepreneurship. This way, we realize concepts that have greater positive impact while reducing costs and lead times for stakeholders.
We believe we need both profitable business and effective government to create the foundations for a sustainable society, as well as support from people globally. To accelerate this, we help develop awareness by sharing our knowledge in seminars, publications, workshops and with open source licenses.
Contact Information
Contact Hours
Monday-Thursday: 10:00 – 18:00
Friday: Time for reflection
phone: +31 10 737 0215
Offices
Except Netherlands
Stadhuisplein 15
3012 AR Rotterdam
the Netherlands

Except USA
The Bourse
839 Chapel Street
New Haven, CT 06511
USA