Except developed UCo as a continuation of the success of RoCo, the  community for social entrepreneurs in Rotterdam. UCo is a working community where SMBs and experienced entrepreneurs are building the foundations of a sustainable society. UCo's monumental  train depot building  offers 1800m2 in working, meeting, and demonstration space, is energy neutral, is focused on an exemplary  healthy place of work, and its interior is as circular as possible. This makes UCo a uniquely sustainable building in Europe.
The concept
UCo is born from the vision that  through long term cooperation between pioneering organziations and individuals the development of sustainability is accelerated.  This is empowered with an environment which supports and demonstrates the values and capacities of the community. UCo aims to become the foremost center for sustainable entrepreneurship in the Netherlands and the region of Utrecht.
UCo offers working and office space for its community members, aimed at experienced SMBs  with sustainability at their core, and a content and a community program. UCo develops partnership programs, workshops, links partners, and actively engages external partners.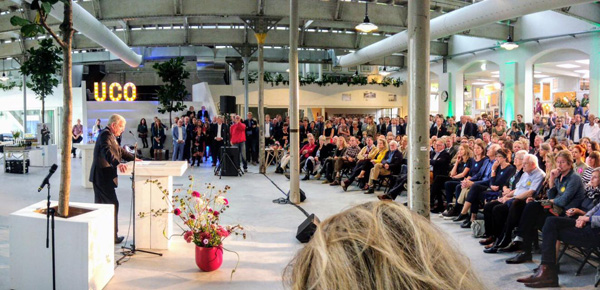 The building
We  found an empty monumental train deport of the Dutch Railways in 2012, which had served its time in the last decades as a warehouse space.  We developed a  challenging concept  for an energyneutral, water neutral, toxin free and waste free builing, supported by a strong business model, and engaged the Dutch Railways with the plan.  In the following years, Except worked with  the Dutch Railways and several partners to make this vision a reality.

 While not all of our starting goals will be realized, we've managed to achieve a higher performance than ever before realized in the Netherlands, and likely Western Europe. The main hall is filled with plants and trees in an inspiring, healthy toxin-free environment, for which all materials have been carefully selected. The building is renovated to be energy neutral, unique for a listed monument. The interior has been developed as circular as possible. All workspaces are fully lit with natural light, during the day no artifical light is necessary. UCo is a true example of sustainable inspiration. All of this, wherever possible, developed with the community, and proven to be affordable and feasible.
More information about UCo, visiting address, partners and updates, visit the UCo owebsite at  www.utrechtco.nl.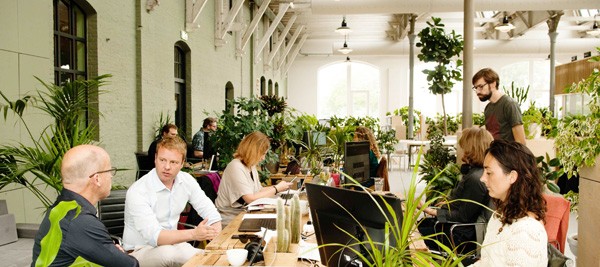 Media & Downloads