The design
The garden originated because of the redevelopment of parking spaces in the historical center of the city Roosendaal. The reestablishment of green life revives a critical junction in the local infrastructure that connects several high-profile spaces including 'de Nieuwstraat', 'het Tongerloplein', and 'Het Koetshuis'.
The base for the design was shaped by the interplay of the central wadi and the butterfly-shaped pathways. Here, three areas with sitting edges have been included, which can act as small amphitheaters and provide opportunities for outdoor classes, readings, and small-scale performances. The wadi en the paths lead to a long, narrow area and connect it to the adjoining gardens: the Tongerlootuin in the west and the Theehuistuin in the east.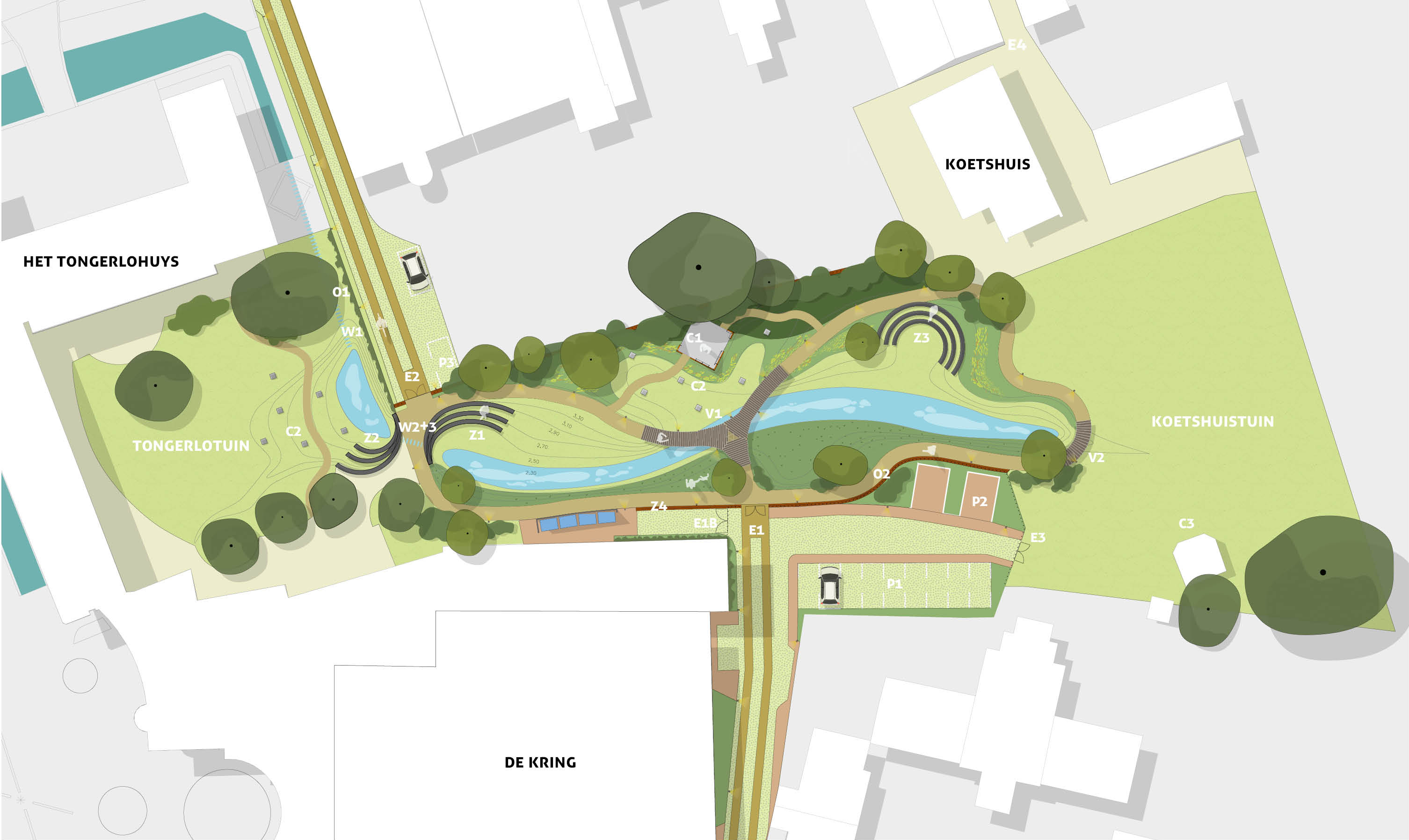 In the Tongerlootuin the pathways link up with the existing paving. Where it touches the new garden a small section will be modified and redesigned around an amphitheater. A culvert connects the central wadi with a smaller wadi in the Tongerlootuin.
In the center of the garden, across the southern entrance, a pavilion has been placed (the current Groenfabriek). Around this pavilion and along the wadi of the Tongerlootuin pedestals are placed on top of which statues can be displayed, for example those from the collection of the Tongerloohuys.
Because of the narrow, stretching character of the garden, the edges of the central part of the garden are decisive for its atmosphere. Upright vegetation at varying heights, especially on the northern side, will offer a green "upholstery". The pavilion will also play a role.
The entrances at the northern and southern sides of the gate will be shaped specially to refer to the garden's stories. The access roads to the garden from the Molenstraat and Nieuwstraat and the parking space at the southeastern side are furnished with a mix of stone pavement, half-paved surfaces, and vegetation. A paved path guides motorized destination traffic and provides a comfortable walkway.
Stakeholders
This project is made possible by the cooperation with the municipality of Roosendaal, Schouwburg De Kring, Museum Tongerloohuys, Het Koetshuis and Alwell.