Move your organization towards a sustainable future
Around the world organizations are moving towards sustainable operations. Moving onto this track typically involves a wide variety of activities, spanning over  several years. 
The path often starts  with understanding what sustainability means for your organization, were your impact lies, and setting up and training  a sustainability team. The next step is finding effective measures to improve the performance of your organization, and executing them. Last but not least, organizations have a challenge in reporting their impacts and their activities engaging sustainability.
We support you and your  organizations every step along this pathway, bringing 20 years of experience. 
Where to start?

If you're not sure where to start, wish to discuss in more detail what your organizational needs are, or simple have some questions, book in an intake call with us, free of charge and without obligation.
In this call with one of our experts, we discuss with you what you think the direction is you'd like to go, what you need, and what you hope to achieve. From this we can advise you on what useful next steps are. 
Contact jeroen@except.nl to arrange an intake call. 
More information about what organizational challenges are, what tools are available, and about the intake process,    read here. 
Specific services we provide
Organization Transition
Custom made pathways to support sustainable transitions for organizations big and small, from A to Z.


Sustainability Strategy
What options lie before you, and what are the smart steps to take into the future? What is the competition up to, and how to best respond and position your own trajectory?


Systemic Investments and grantmaking
Strategy, vision, and roadmaps supporting systemic investment and grantmaking trajectories.


Future Visions
Co-create a future vision for your organization with multi-disciplinary experts to paint the dot on the horizon, find new ideas, and align your team towards a common goal.


Impact Assessment & Sustainability Reporting
Where does your organization impact society the most, and where are the opportunities?  What is the best and most efficient way to arrive at transparent sustainability reporting?


Circular Economy  & Systems Analysis
Services to head towards a fully circular economy  organization, as well as performing broader systems analysis for understanding, analyzing, and strategizing towards a sustainable organization. 


Supply Chain Optimization
Optimize your orgenization's impacts through the supply chain; map the chain, find leverage points, and boost organziational performance with smart tools and strategies.


Stakeholder Involvement
 Involve your stakeholders upstream, downstream and across society to leverage higher performance, and combine this with industry leadership.


Training and  Knowledge Development
Train your staff, sustainability tream or individuals in our various sustainability programs, for beginners to experts.
Why work with Except?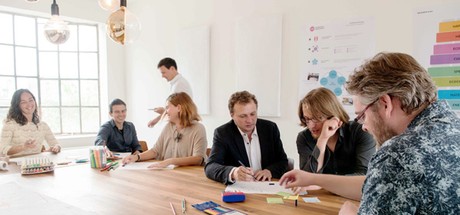 Except started in 1999, one of the first consultancies in this field. In the two decades that followed, we've supported more than 100 organizations on their pathway towards sustainable operations. This experience helps like no other stand by you along the way.
We work a wide variety of sectors,including large multinationals on four continents, such as IKEA and Heineken, as well as with small local organizations, minicipalities, and family businesses. We carry over this experience to you.
"Except offers a flexible and complementary team of experts in different fields that together create magic." 
- Matthieu Leroy,   Inter IKEA Systems 
We  help you choose and walk down pathways that not  only increase your organization's sustainability performance, but help you flourish as well.
Because that's what we feel sustainability is all about: to flourish as organizations while contributing to a sustainable society. 
Read more about sustainability challenges facing organizations.