Serenity Farms moves the market by producing healthy, consistent, high quality fresh produce for people that currently rely on expensive air freight products, or water-intensive low quality local products. Our solution increases food security, reduces carbon emissions, and reduces water use significantly, among other benefits. It also establishes a new non-oil based economic engine in the region.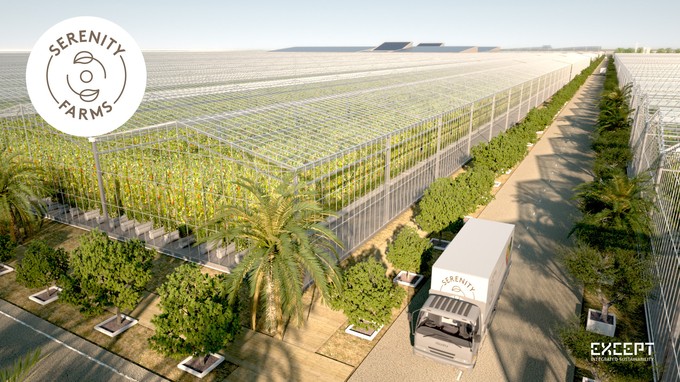 Serenity Farms in a nutshell:
Food security for a local population by reliably producing healthy fresh food of consistent quality year round for more than 185.000 people.  In further phases aimed to establish a new industry with 15.000-50.000 sustainable jobs.

A 1 billion USD$ boost to local economy over 10 years, with employment for over 700 people directly and 2000 indirectly for a range of skilled and educated workers, including training.

Knowledge development industry on sustainable food production in arid regions in cooperation with KAUST university.

First large scale commercial greenhouse using non-aquifer water sources. It saves 9.2 billion liters of water per year compared to open field, which is more than 97% savings.

CO2  reduction of 62.200 tons per year, and air pollution reduction by eliminating imports and associated (air) freight for fresh food supplies, and by producing its own electricity.

Prepared for future industrial symbiosis by connecting to organic waste sources from hospitality and chicken farms, CO2 sourcing from the atmosphere and adjacent industries, as well as using greenhouse plant fibers for packaging production.

 It does this in a financially rewarding investment structure, with managed risk and phased scaling.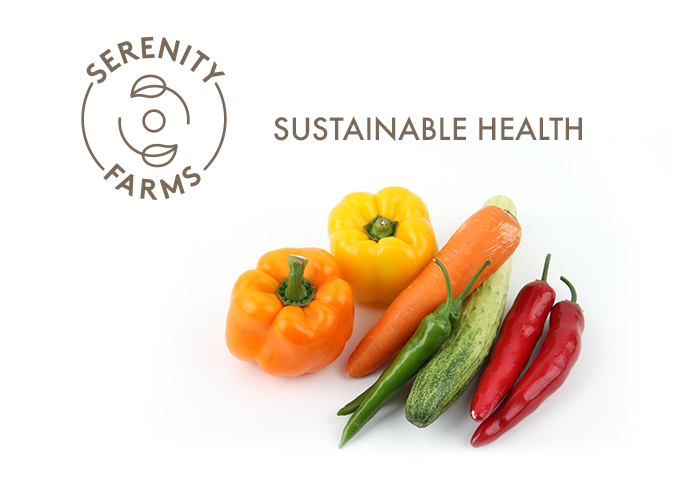 Food in the desert
A changing climate, on top of dwindling resources needed for agriculture, and fast paced population growth, complicates our collective mandate to grow enough food. Food security and effects on national autonomy are of significant concern to many countries. Especially arid countries suffer, with a low natural domestic food production capacity, which includes Saudi Arabia and other GCC countries.
"Taking into account a growing population and shifting diets, the world will need to produce 69% more food calories in 2050 than we did in 2006." 
- World Resources Institute
Fresh water sources are on the verge of depletion, which invalidates current local agricultural practices. Furthermore, growing populations increasingly make nations dependent on international trade from around the world, causing increased food security risks, as well requiring expensive, carbon intensive cooled air freight movements that reduce quality and increase risk. To make local sustainable high quality food production in the desert a reality, we initiated the Serenity Farms project in Saudi Arabia. 
Serenity Farms employs Dutch greenhouse technology, capable of reducing water consumption by more than 95% compared to local open field agriculture. In addition, the water that is used is desalinated seawater, and the Serenity Farms water footprint is therefore minimal. All energy for the entire facility is gained from the sun, both from thermal and PV sources.
"The ultimate goal of farming is not the growing of crops, but the cultivation and perfection of human beings." 
- Masanobu Fukuoka, The One-Straw Revolution

Water as a source of life
In arid regions, water is the most valuable resource, above anything else. Due to the unprecedented consumption needs over the last 100 years, many such regions have started to depend on, and deplete, fossil water sources. Saudi Arabia for example has depleted over 80% of their fossil water reserves in the last 50 years alone, facing the consequences in the near future. In order to prolong the life of the remaining fossil water deposits, and mitigate the economic damage, it has banned the use of water in open field agriculture for cereal and feed crops. While these harsh steps are taken, it is not expected to resolve the shortage in the long term, and many more interventions are expected under the KSA government's Vision 2030. 
Serenity Farms sets a precedent for a new  industry, compliant with Vision 2030 and beyond. It has the potential to expand as a solution into the GCC region, and other arid regions in the world.
End of  the fossil era for fresh food
Global efforts are slowly but steadily turning their backs to fossil fuel. Many countries that were able to build their economy on these industries are looking into the future, and are preparing for an inevitable shift away from oil. Saudi Arabia is facing this challenge, which they address in their Vision 2030. They declare to significantly develop their non-oil economy, funneling current income from oil into new industries which are to help them become more autonomous and switch to a non-oil economy. 
Serenity Farms stands to be among the first in a new industry towards fossil fuel free food security, employing renewable energy sources based on solar power. Reducing air freight and using solar power reduces fossil fuel demands and saves 57 tons of CO2 per year. That is comparable with the CO2 emissions of around 17.000 petrol cars average per year.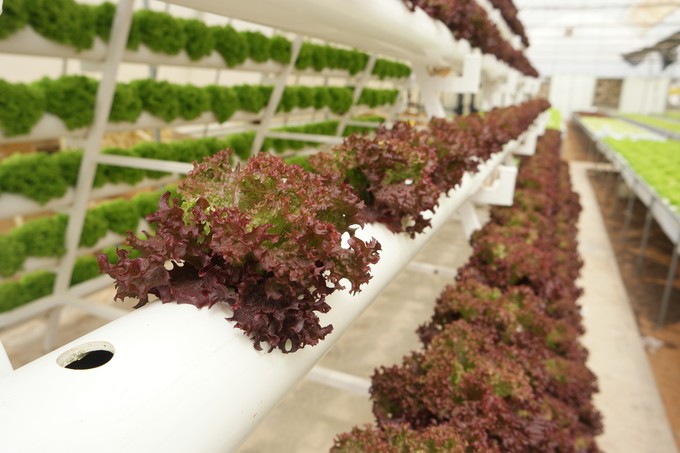 Sustainable arid food production
To ensure a long term viable solution which fits snugly into its local and systemic context, the local needs and conditions were analyzed in great detail, in which client knowledge was invaluable. For this, we supplied research into geographical, economical, and technological context, including innovative growing systems, saline growth, algae cultivation, and aquaculture. Under a strenuous review and co-creation process, answers and combinations were sought, not to one challenge, but to all relevant challenges in context.
Serenity Farms was the result, a novel greenhouse complex that gets its electrical power from the sun, and recycles its waste water to extract as much valuable nutrients as possible. It is financially robust, is flexible in its crop selection throughout seasons, and can operate year round. Options exist for future expansion to produce its own fertilizer from organic sources, connect to other local industries for organic waste recycling, CO2 atmospheric scrubbing, and packaging production.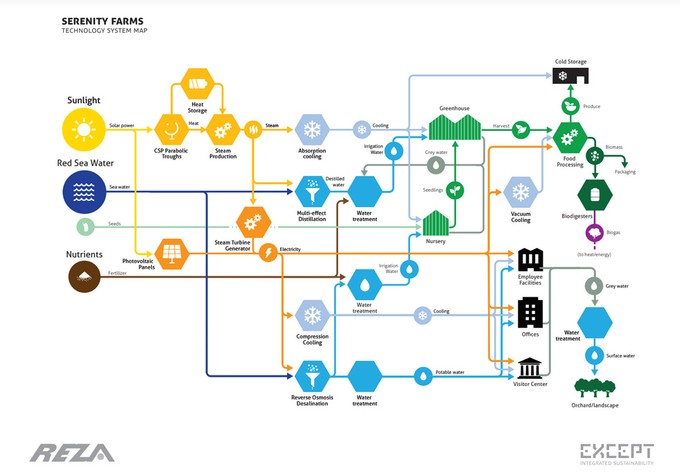 Growing into the future
The roadmap for Serenity Farms aims towards self-sustained cultivation in energy, water sourcing, and waste processing. Additional areas of ambition are sourcing of sustainable nutrient sources, and CO2 scrubbing. Serenity Farms produces organically as much as possible, closing its biomaterial loops, and being as circular as possible in its operations, including packaging.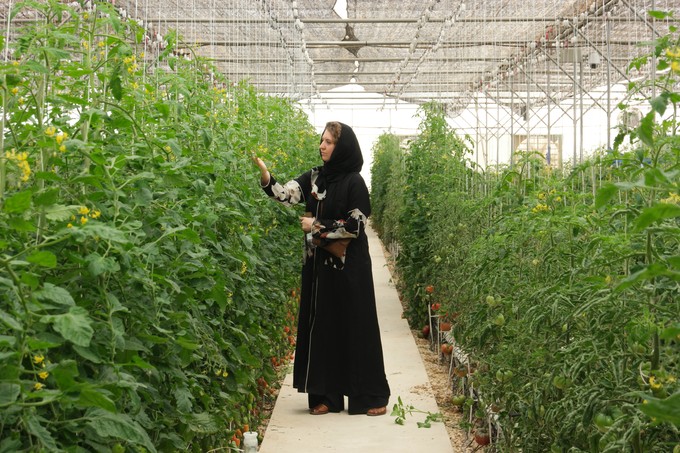 Simulating the desert
To meet the complex technical challenge of feasibly producing food at a profitable rate in difficult environments, Except created an advanced simulation and modelling tool.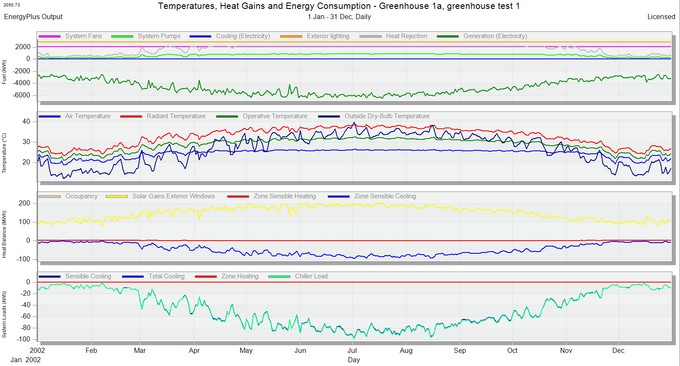 The algorithm integrates performance specifications of high-end technological solutions for climate control, water treatment, energy production, and nutrient mixing technology making it fully adaptable to different environments, contexts, and technologies. The tool enables complex scenario testing, and the analysis of different tradeoffs between technologies, resources, land use, logistics and operational decisions, as well as profitability.